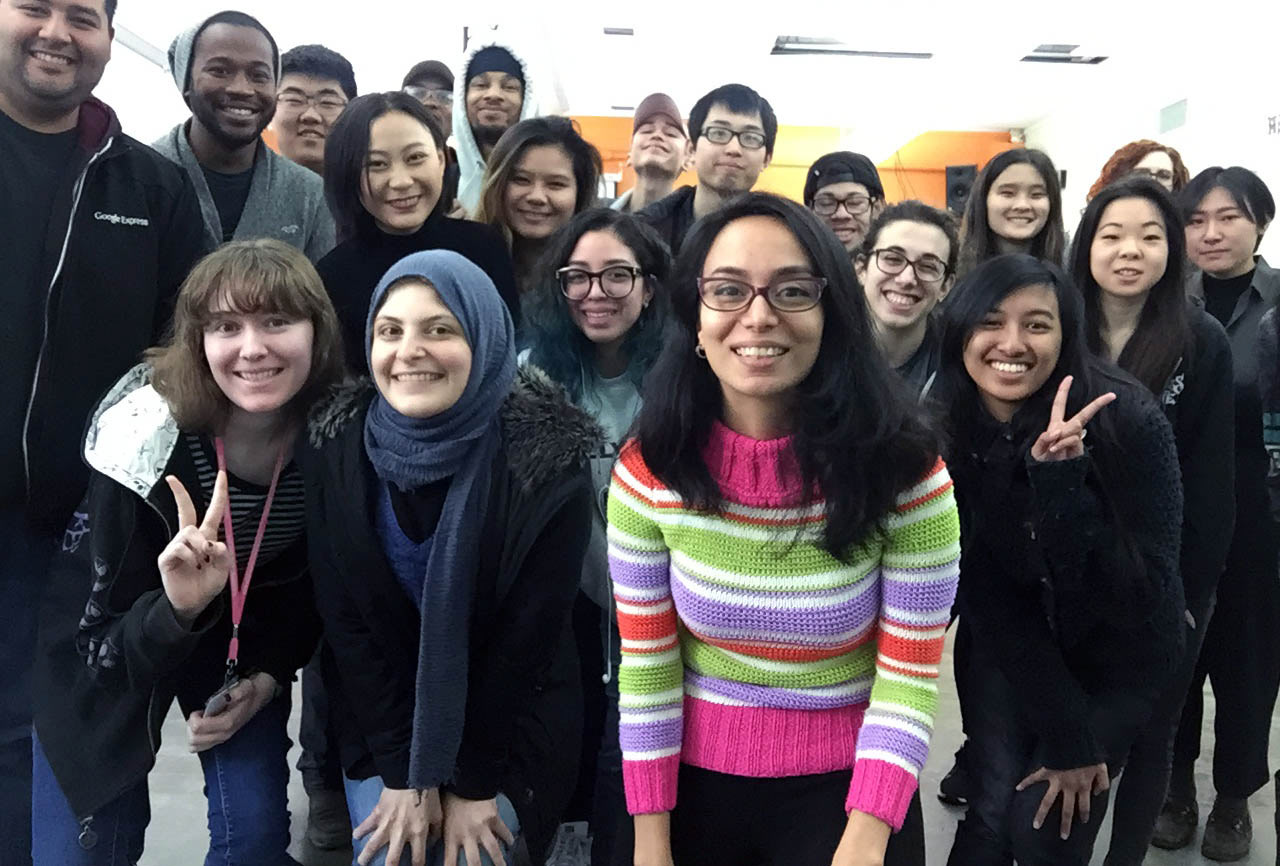 My inclusive teaching pedagogy derives from various approaches, including developing practical modules, building student engagement, facilitating discussions, working in partnership, and implementing learning. In addition, I collaborate with my students to create an environment based on active learning, equality, diversity, and friendship to explore, articulate, and understand different ideas.
In my classroom, I have students from freshman to seniors from different areas of practice who all share the common goal of using digital applications as a medium for art and design. I encourage them to analyze and incorporate technology in their practice through a nontraditional and a nonwestern perspective. I start the class by giving lectures on the history of new media and the field's different tools and influential artists and techno-creatives.
I also believe students must develop their communication and critical thinking skills. I assure that they understand the relevant terminology to determine the suitable medium to bring their ideas to life. Therefore, I give lectures ranging from excerpts from early New Media history to more contemporary trends in the field. I assign research papers to students, and I ask them to post their responses in a group discussion area and respond to each other's thoughts. This approach allows them to understand the importance of peer review and openness to different points of view.
I grade my students' work based on their research, inspiration, concept, aesthetics, and techniques. In most sessions, when covering new content, I provide them with the perfect example of a professional using similar tools or techniques to help them add more inspiration to their list of resources. In addition, before every project deadline, I share examples of previous students' projects to give students an overview of the expectation based on their skills. Hence, they are not only overwhelmed by the work of professional artists. I plan my syllabus with the goal for my students to create a dynamic portfolio. At the end of each class, I ask my students to develop their portfolio website to learn the fundamentals of web design and as an archive containing finished works representing potential employers. 
As a teacher, I understand that some students make fast progress and others need more attention and time to grow. For example, first-year students need to be introduced to fundamental skills, while senior students need to acquire more specific skills. To keep the class balanced and engaging for students, I believe in having one-on-one conversations, pairing students with complementary backgrounds in a group, and carefully monitoring their progress. 
I believe in putting the necessary resources and guidance in the hands of students to be sure that they are well equipped to learn and grow. I understand mastering computer applications requires a long journey of learning and practicing. I believe that digital media courses should eventually connect students to the real world; thus, I actively devise practical experiences and inspire them through various activities such as field trips, workshops, and inviting guest speakers.

​​​​​​​
I consider being in the classroom as analogous to being involved in a large-scale collaboration; I share my knowledge and thoughts with my students, and I learn from them. Students also identify their strengths and support each other to complete the project successfully. I want to be a part of that process that gives students encouragement and guidance to return to their workspaces filled with ideas, inspired, and ready to bring them to life!