Uniplay
Arcade Games For All
Inclusive Offline Mobile Gaming
for All Ages and Abilities
Timeline
July 2022 - October 2022
Responsibilities
Conducting interviews, paper and digital wireframing, low and high-fidelity prototyping, conducting usability studies, accounting for accessibility, and iterating on designs.
Uniplay is a new mobile arcade app that allows a diverse group of users to find games based on their needs. Uniplay focuses on adding simple games that can be downloaded and played offline so that users can entertain themselves in a convenient and meaningful way.
Problem
Young people, retirees, and commuters can not easily find a range of games that are entertaining and helpful for brain development.
Project Goal
Design an app that allows diverse age groups to download entertaining and educational games on their phones so that they do not need internet access to play.
Research goals
Understand Who plays games and what is the motivation behind playing games

How do we make users more excited about trying new games?

What is the frustration with game apps?
Target audience
Young adults/teens/children/seniors who play games (12 - 70)

California

People with a disability or older people

People with different education or economic backgrounds
Technology issues
Many platforms require access to the internet and specific storage on the phone.
Accessibility
Platforms for games are text heavy and are often difficult to read and mostly in 1 language.
IA
Too many game suggestions make it difficult to decide and users tend to jump from one game to another.
Meet Sam, and Sherry
I wanted to form a deeper understanding of my users' goals, needs, experiences, and behaviors. So, I created 2 personas for each of our user segments. They were based on user interviews and surveys.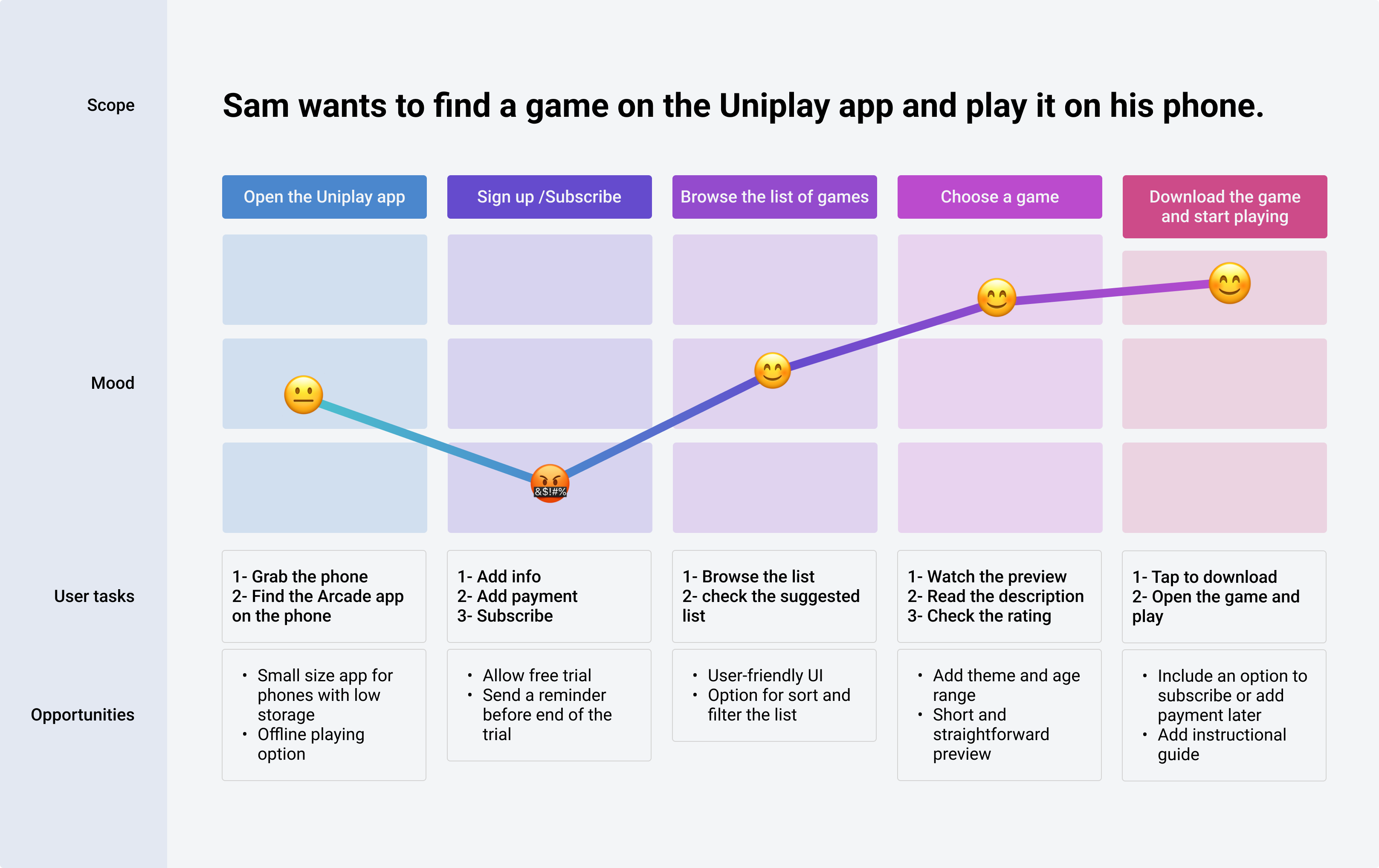 User Journey
With the project goal in mind, I made sure that our users reach the checkout screen without any hiccups. So, I sketched a current-state user journey map, to identify opportunities for improvement.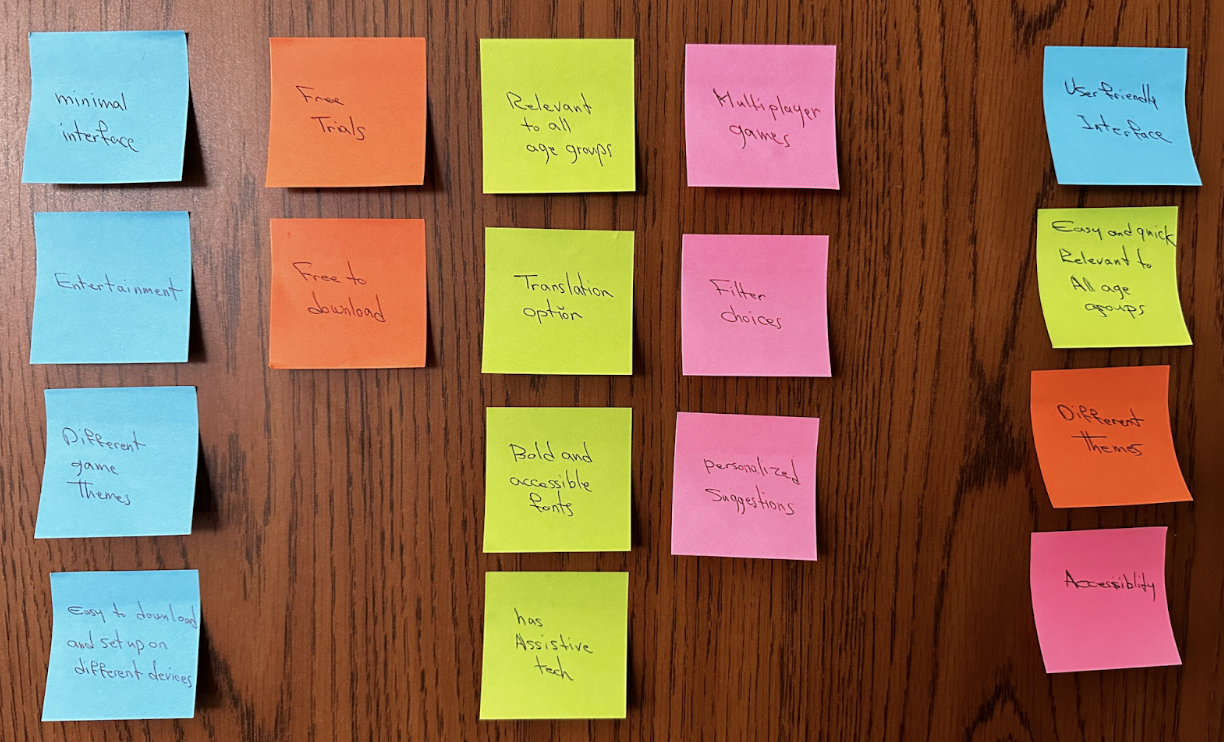 Card Sorting
To make sure that the user flow is aligned with user expectations, I conducted a card sorting session. My goal was to find smaller, intuitive groupings for the value proposition. After organizing the data, I ended up with 4 clearly defined main categories including General, Accessibility, Cost, and Personalized options.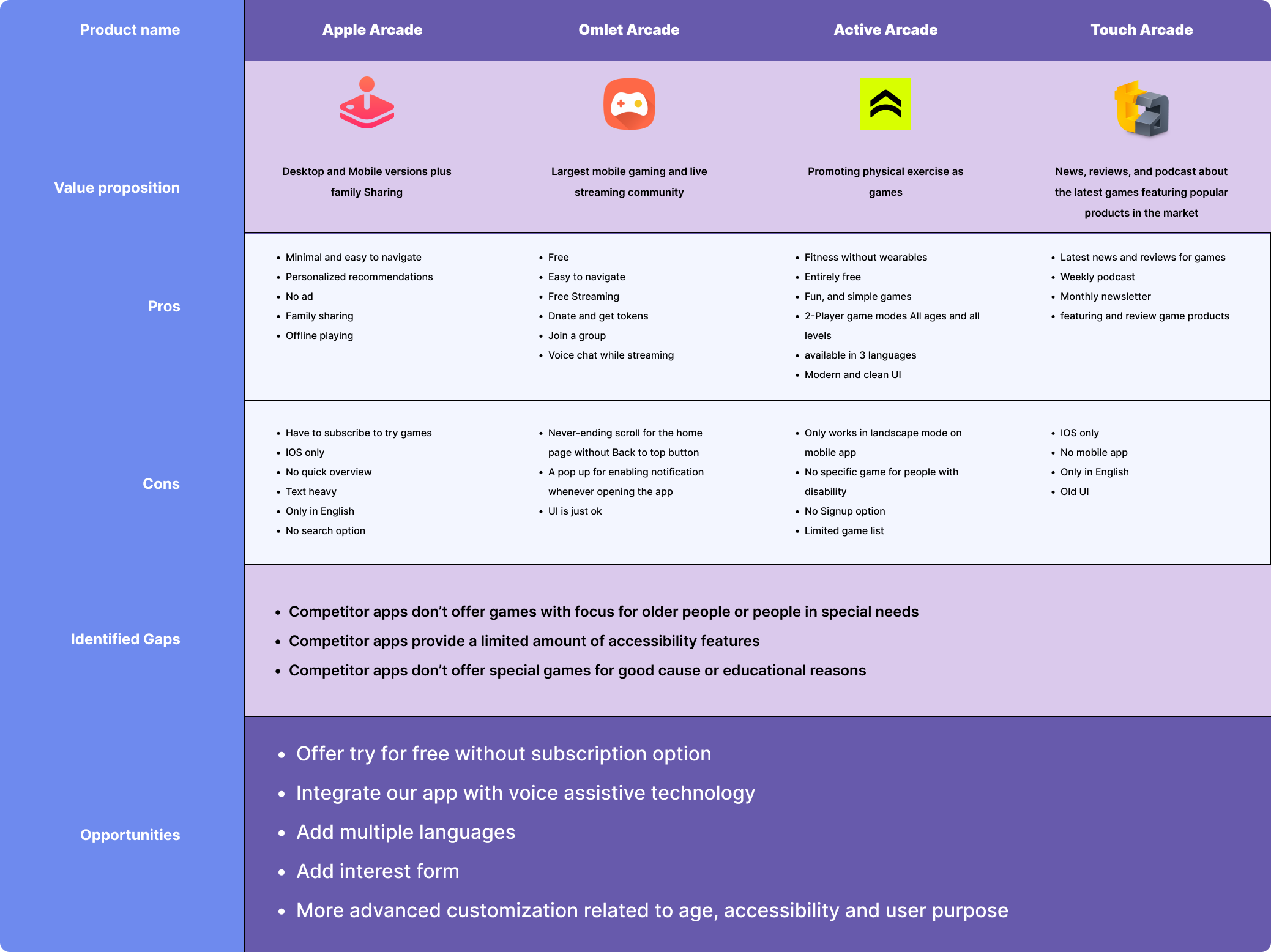 Competitive audit
I conducted a competitive audit to examine the existing market landscape of competitor apps in the space of Mobile Arcade Games.
Identified Gaps
Lack of focus on older people or those with special needs.

Limited accessibility features.

A short list of available games for good causes or educational reasons.
Identified opportunities
Offering a more comprehensive range of games for older people.

Providing the option to try our app for free without a subscription

Integrating with voice assistive technology

Offering more advanced customization options based on the user's age, accessibility needs, and purpose.
Storyboards & User Flow
I began the design process by creating big-picture and close-up storyboards to address user emotions throughout the journey. After that, I created a user flow to determine the user steps from opening the app until they start playing a game.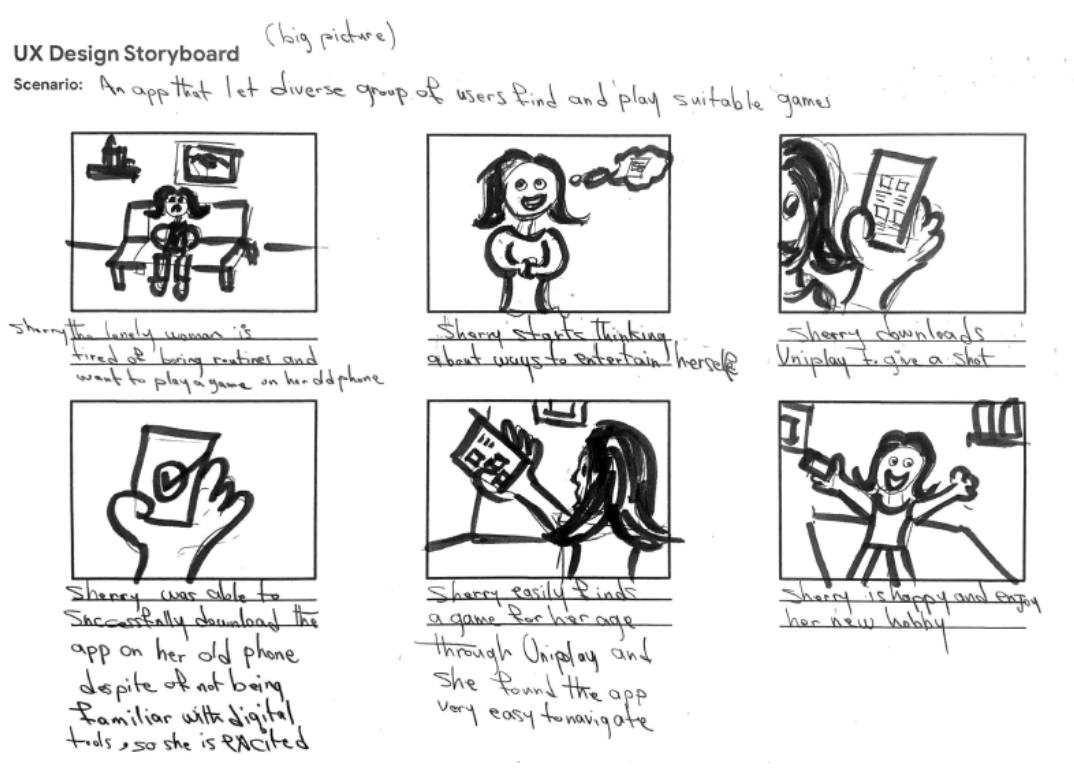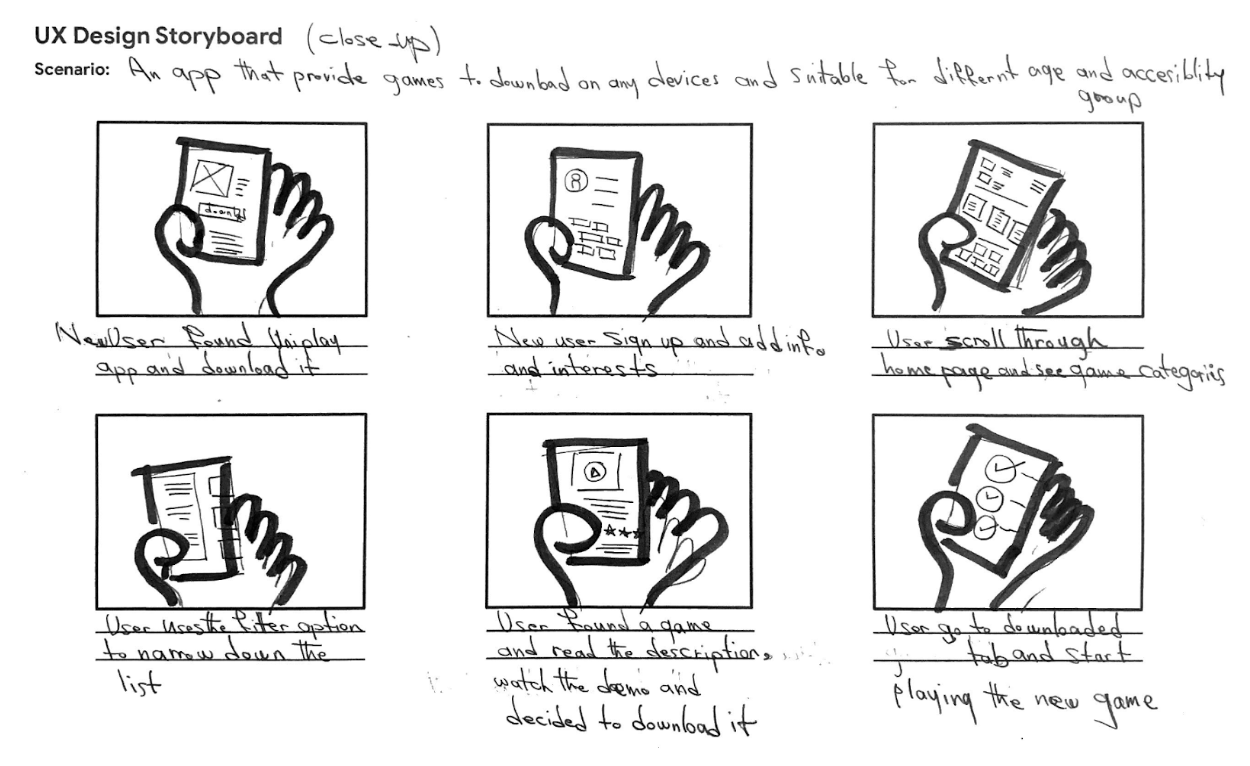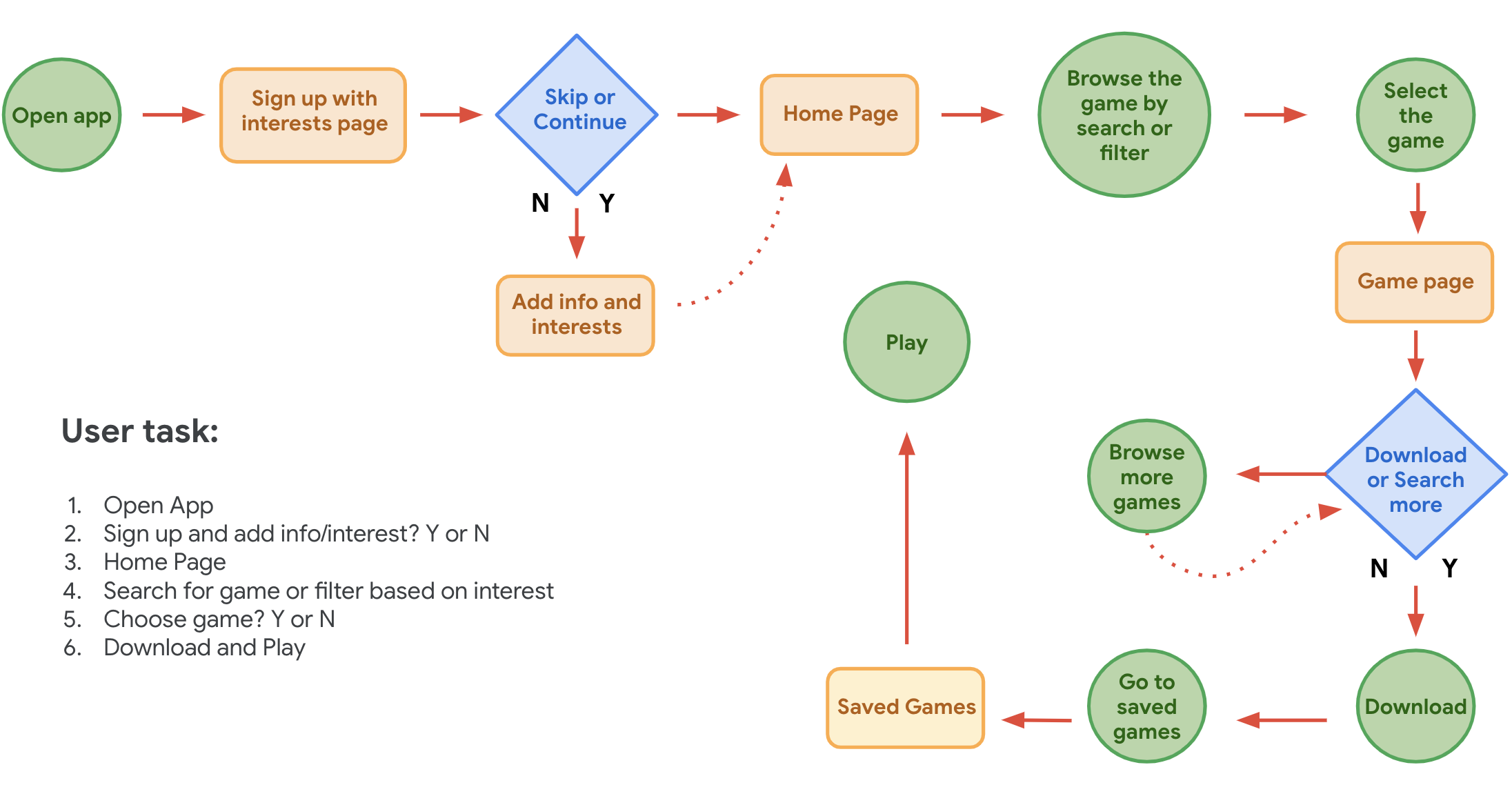 Wireframes
Taking the time to draft iterations of the home screen of the app on paper, I ensured that the elements that made it to digital wireframes would be well-suited to address user pain points. For the home screen, I prioritized adding a profile icon, Logo, and a fixed footer for easier navigation.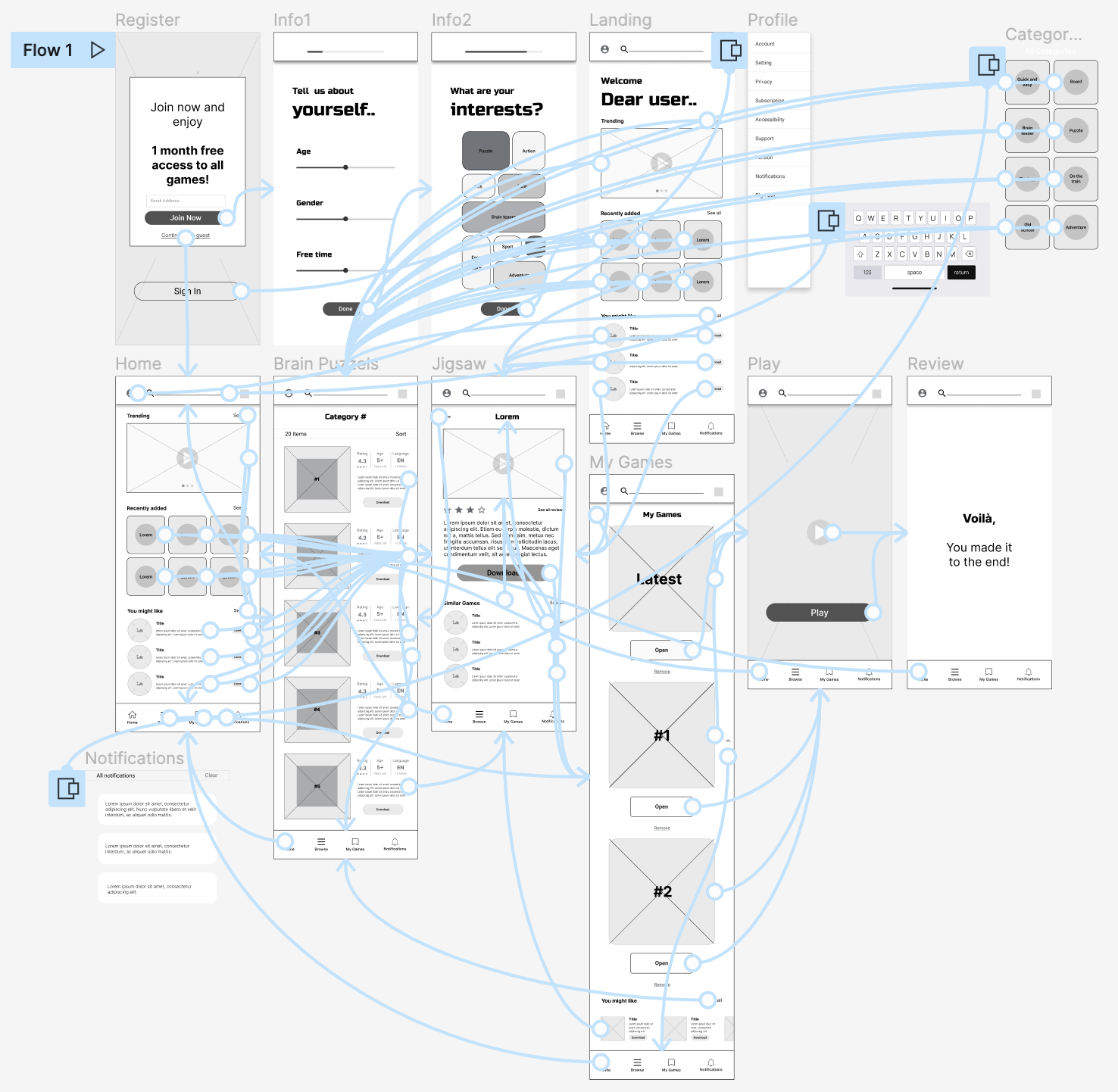 Low-fidelity prototype
Using the completed set of digital wireframes, I created a low-fidelity prototype. At this stage in Figma. Accessibility and easy navigation were the key user needs to address in the design.
The primary user flow I connected was starting from the registration page with the option of continuing as a guest to the home page and, from there, browsing or searching for a game, downloading it, and playing it.
View the Uniplay prototype Click here.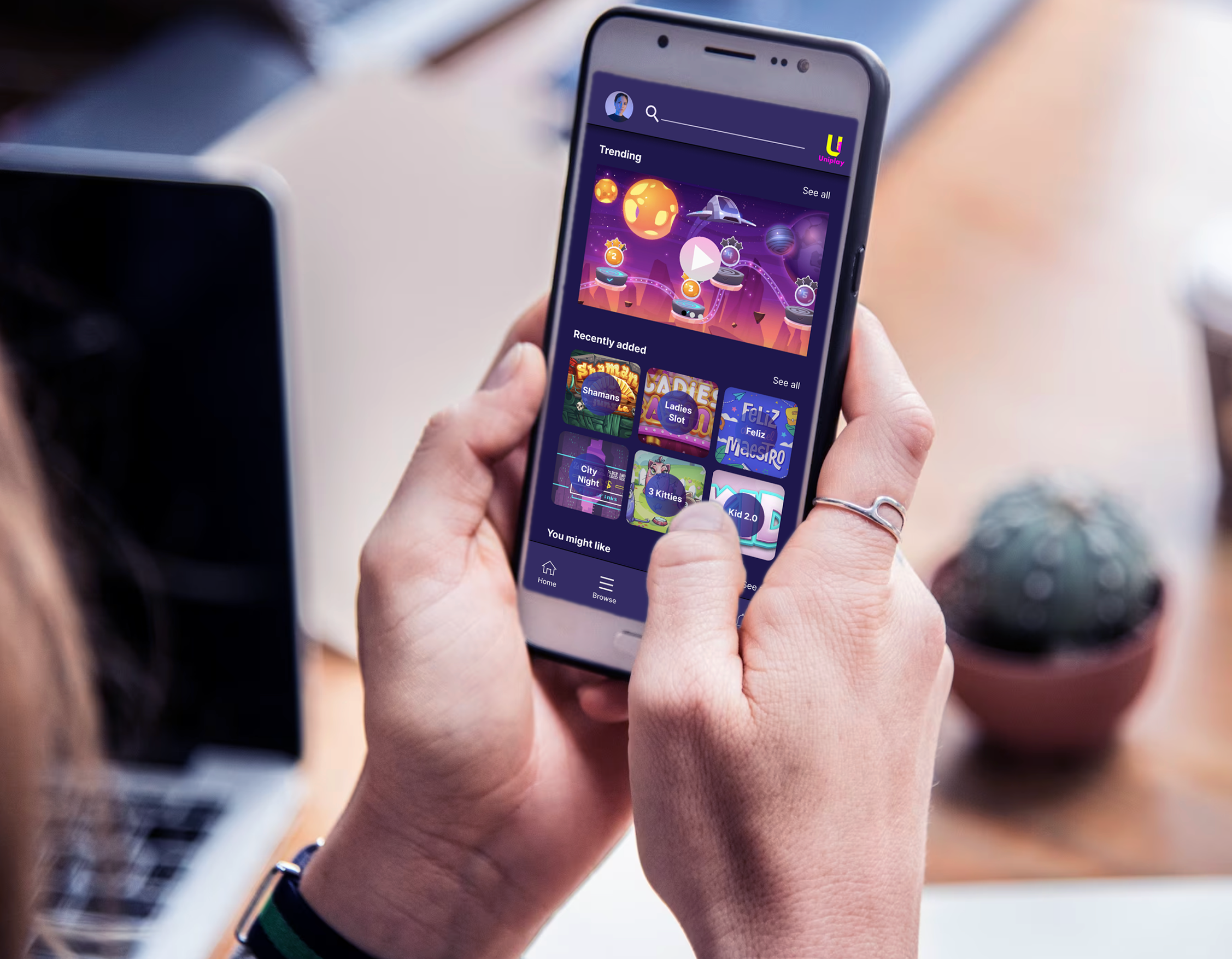 Usability Study
I conducted two rounds of usability studies. Findings from the first study (Lo-Fi iteration) helped guide the user flow. The second study used a high-fidelity prototype and revealed what aspects of the mockups needed refining.
Research goal
Determine if the app makes it easy for users to find a game, download it, and play it.
Questions
How fast and easy is finding a game through the app?

Which part of the flow/app is confusing for the user?

What can we improve based on the user feedback?
Methodology
15 minutes

San Jose, CA

In-person, Moderated

5 minutes for the introduction and 10 minutes for users' usability and behavior screening
Participants
5 participants

two females and three males between the ages of 20-65.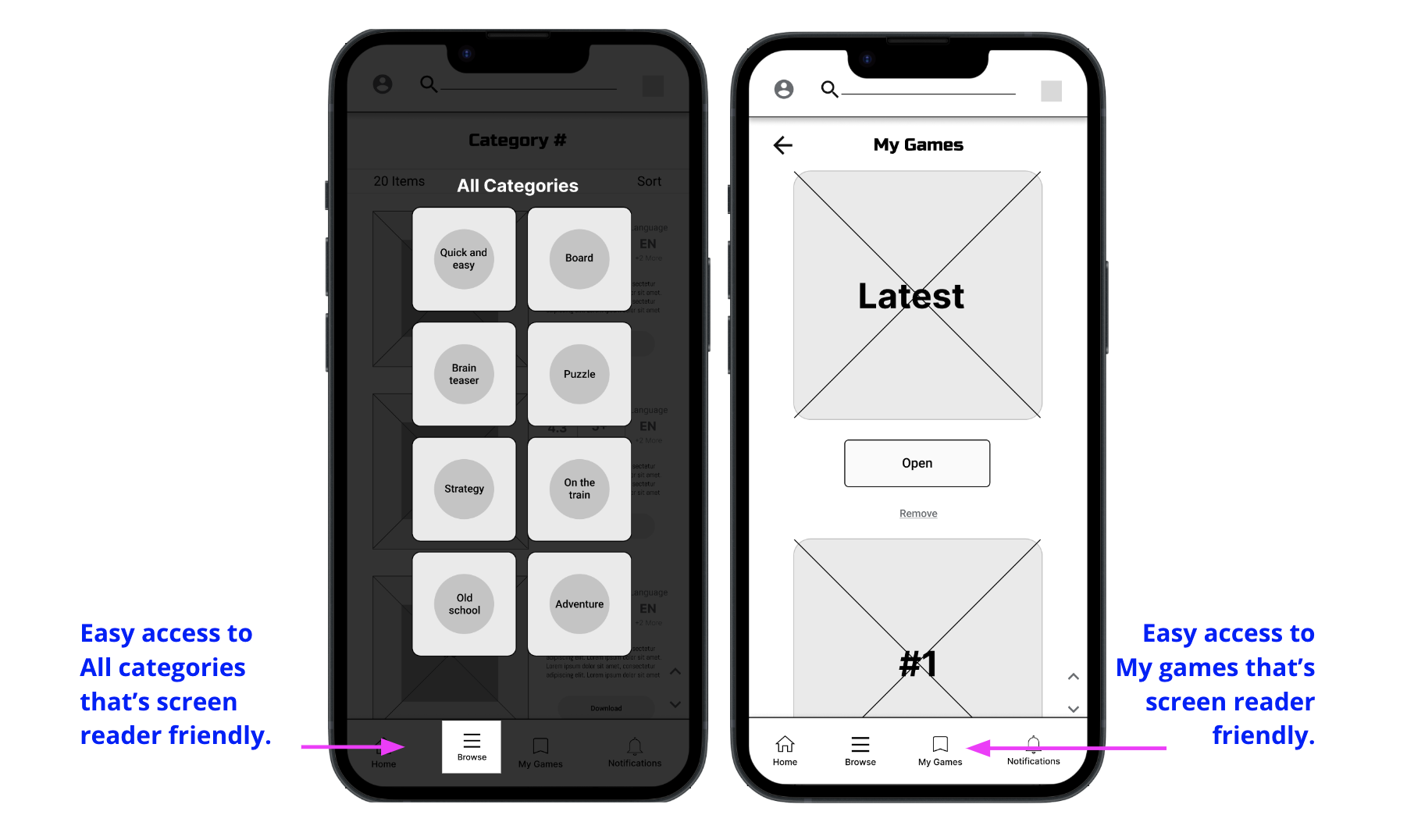 Round 01 finding
Users want to find a game quickly.

Users are not familiar with certain icons if there is no accompanying text.
"I was afraid to click on the down arrow icon because it might download something that I didn't want" (P3)
Most participants tend to skip the registration step.
"I prefer to continue as a guest and see what is in the app first" (P1)
Round 02 finding
Users prefer larger icons and bolder UI.
"I love seeing bigger images/animation of what the game is about; instead, I don't mind long scrolls" (P5)
Call-to-action buttons should be the same color throughout the app
Recommendation
We can consider rewards for users to be encouraged to sign up! According to "Web Hosting Buzz," 86% of users are bothered by having to create new accounts on websites.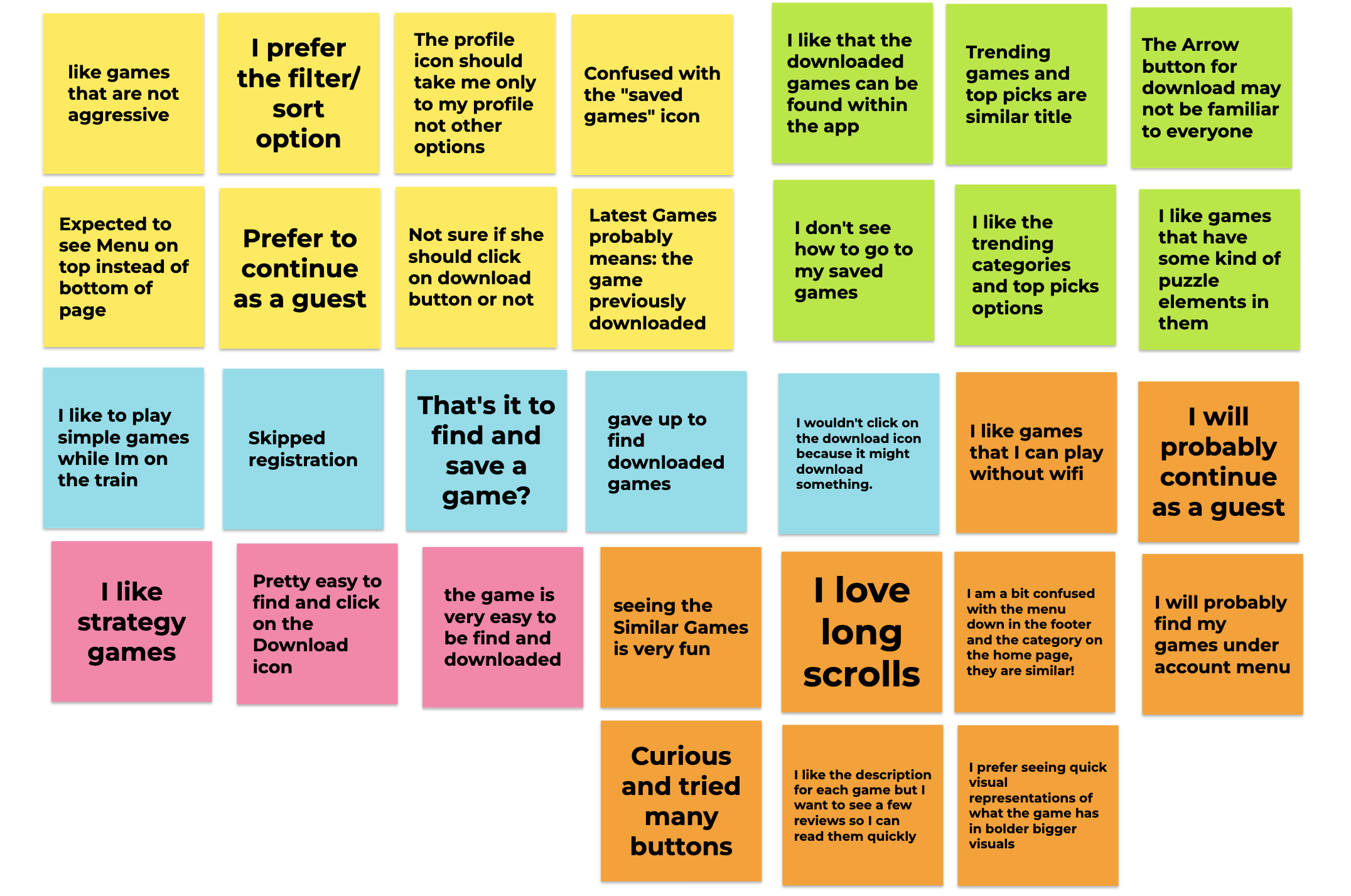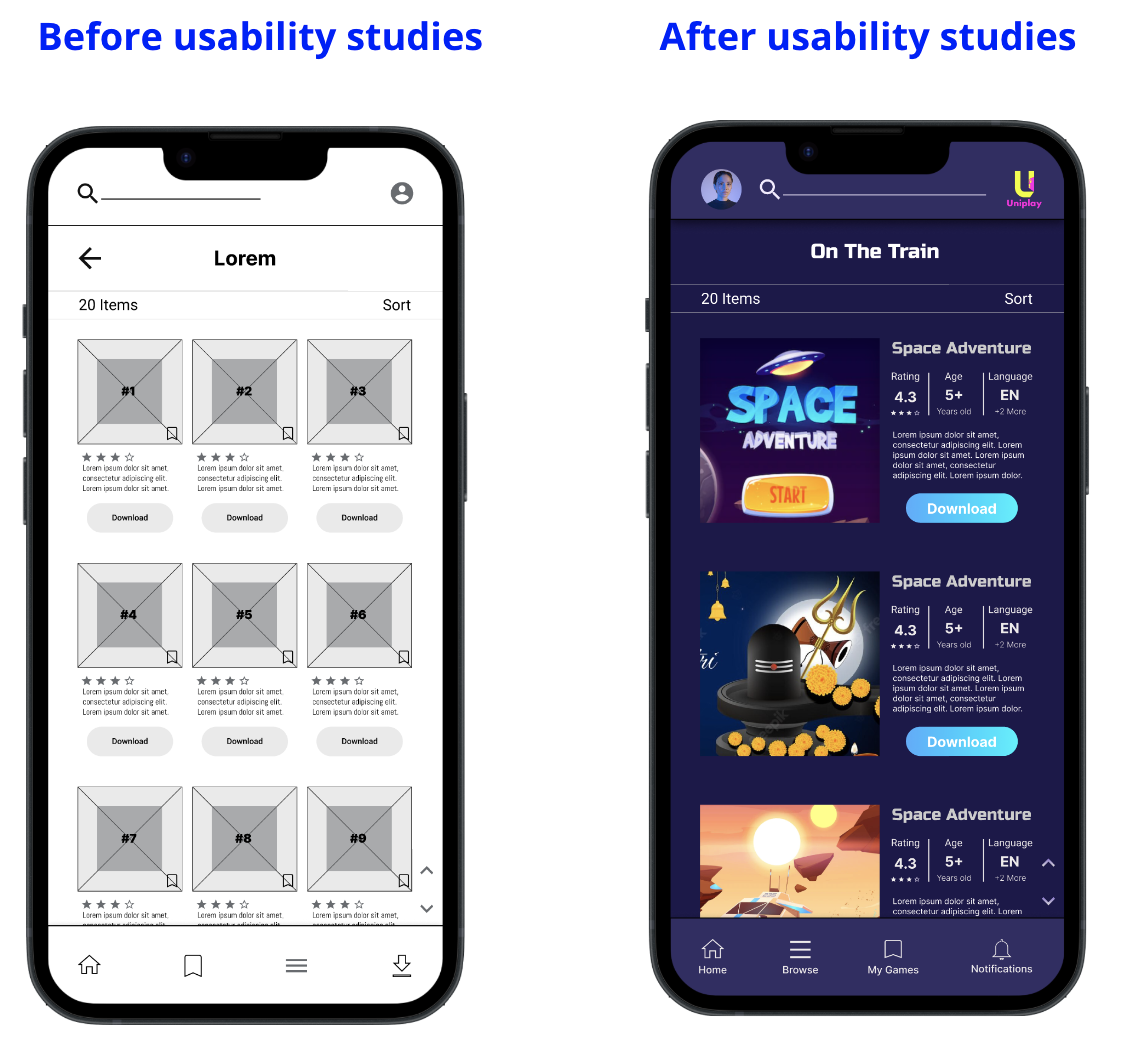 Mockups
Early designs had busier layouts for game categories and were less accessible. After the usability studies, I decided to have one game in each row and use a bolder UI on the Saved Games Screen. This allows users to see important info at a glance and scan it more quickly.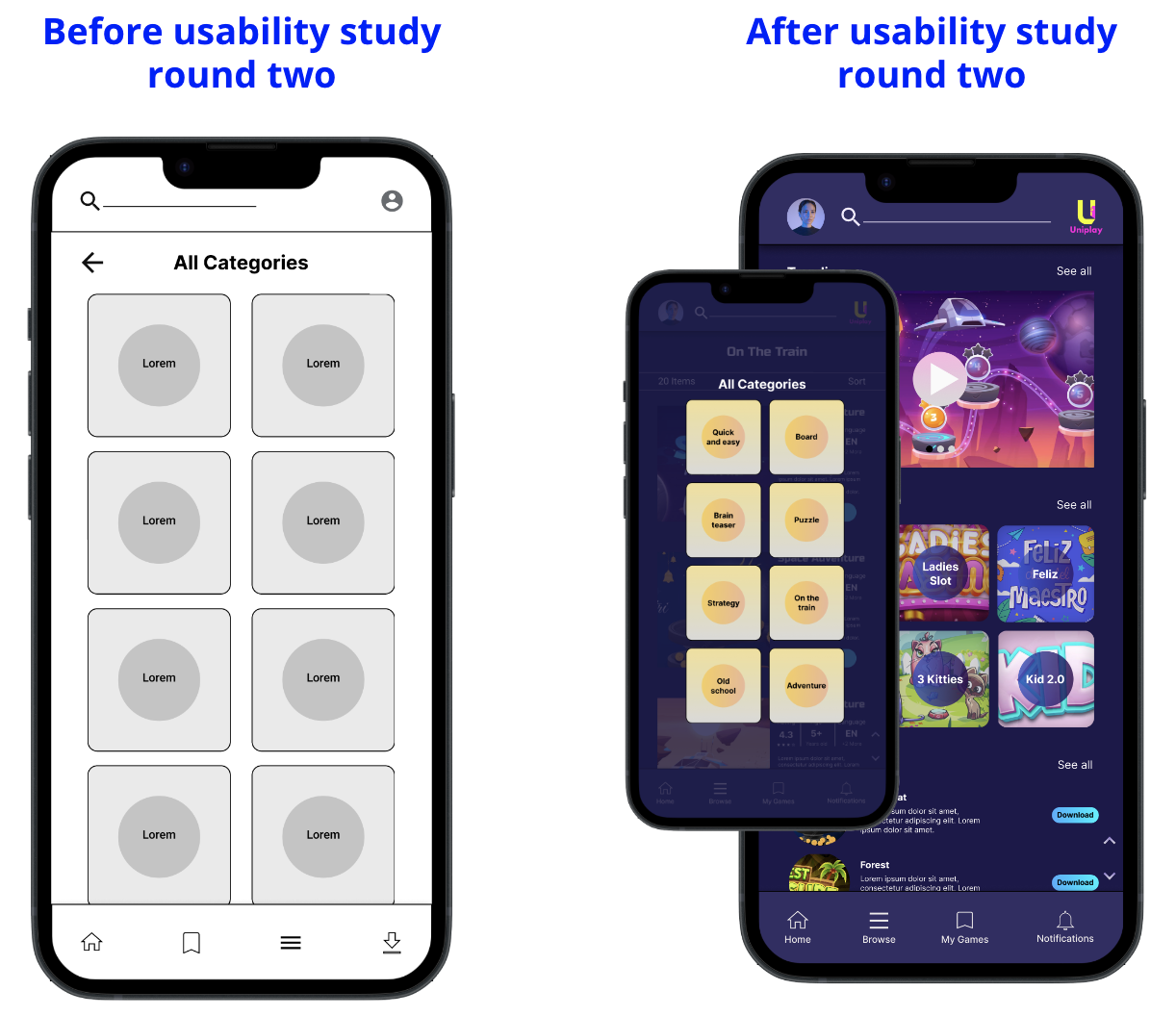 The second usability study revealed frustration with the downloaded game's icon. Users were confused about finding games that they downloaded. So, I changed the footer's icons and added a title for each. Also, in addition to the search option, I included a Category icon in the footer to let users find games more easily.
High-fidelity prototype
The final high-fidelity prototype presented a user-friendly flow for finding suitable games.
View the Uniplay app high-fidelity prototype.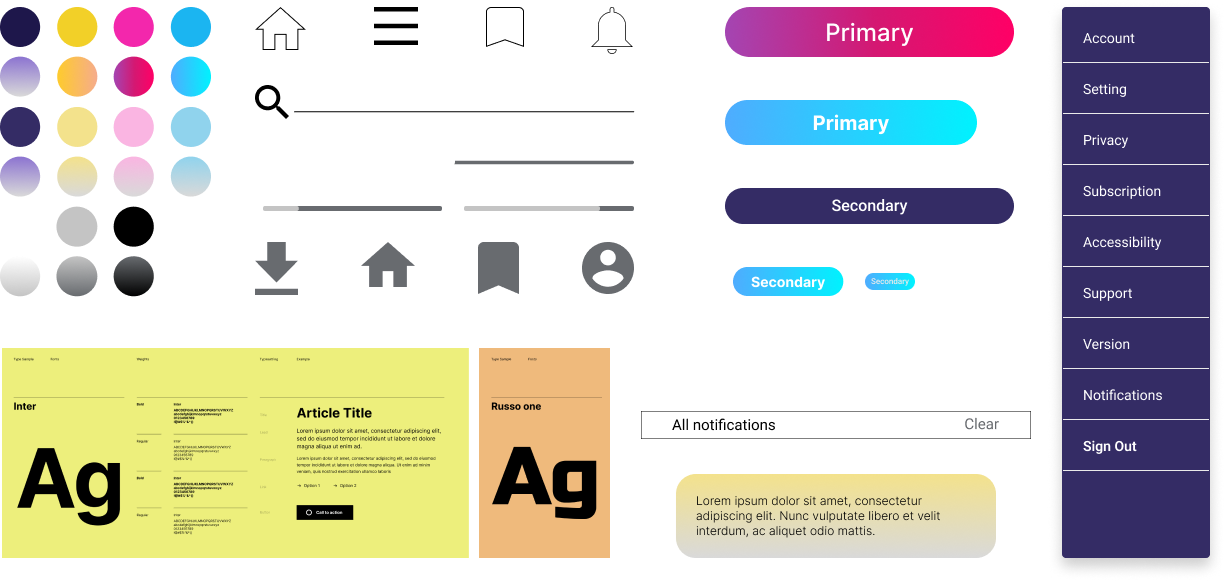 Accessibility consideration
Provide alternative text for images and icons

Fewer texts and bolder icons.

Add multiple languages.
Impact
The app makes users feel like Uniplay is easy to use, and it is created by taking every individual's interest into count.
Next steps
Conduct another round of usability studies to validate whether the pain points users experienced have been effectively addressed.

Conduct more user research to determine any new areas of need.
What I learned
While designing the Uniplay app, I learned that the first ideas for the app are only the beginning of the process. I also realized that usability studies and peer feedback are integral parts of UX as they influence each iteration of the app's design.
Thank you for your time reviewing my work on the Uniplay app!
Feel free to contact me or just say hello on my social media!